Butterfly Tenergy 80 FX Review
Finally the Tenergy 80 FX review… exciting!!!
Thanks to Butterfly Australia, I've been given a new (sample) sheet of Tenergy 80 FX, so that I can test and review it! Note: They've not asked me for a review, nor for anything in return, so I'm expressing my honest and personal opinions here.
From Butterfly
We can inform you already: TENERGY 80-FX ist softer – but not made for "softies"! It is a great choice for every player who seeks to combine the dynamic TENERGY 80, the latest addition to TENERGY family, with the flexibility of a softer sponge.
Combining the speed of TENERGY 64 and world-famous spin of TENERGY 05, TENERGY 80 offers the perfect choice to players looking for a powerful offensive play close to the table as well as from mid distance.
Furthermore it is a great choice for counter spin rallies thanks to the good rotation which can be felt particularly on Topspin shots with long trajectory.

The 4° softer FX version of SPRING SPONGE offers an excellent touch and high control in service and return game.
Packaging
The sample came in 'sample' packing as shown below.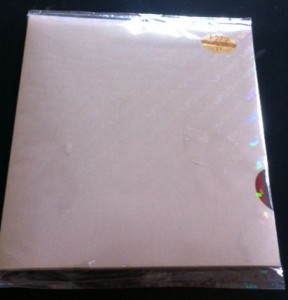 I'll start of with a visual inspection and lots of picture, comparing the Tenergy 80 FX (T80FX) to the original Tenergy 80 (T80). Click on the pictures below to zoom in for more detail.
Visual Inspection – General
The T80 FX has only a very mild chemical smell, unlike some of the other latest generation sheets which can have a strong chemical small indicating potential strong boosting effect. I doubt that 'airing' these sheets is really necessary, but it's probably good practice regardless if you're going to play in any tournament or ITTF events.
The sheet has a very slight oily feel on contact, just like all the other tenergy rubbers, so wiping with a tissue/cloth before gluing is always recommended, as this can stop good adhesion.
The T80FX does not have any sort of significant dome, so it should be relatively easy to glue and handle.
Visual Inspection – the topsheet
The T80FX rubber sheet looks of very high quality, as we've come to expect from Butterfly. It looks very similar to the T80 sheet, apart from the obvious labels.
The print of the labels looks very sharp as you can see, which is often a good way to tell them apart from fake sheets, which are quite common.
The colour and shine of the topsheets of the T80FX vs the T80, they are virtually identical:
The T80FX sheet has just a very slight dome…or it may be just a slight bend in the sheet as due to storage position.
Visual Inspection – the Sponge
The sponge of the Tenergy 80 FX also looks virtually identical to that of the Tenergy 80. It has fairly large pores, but not as large as something like Bluefire.
As usual, the butter designation is laser printed on the back of the sponge. It's interesting to see that Butterfly has marked this sheet as "Sample"…something that probably only Butterfly would do.
Sponge and top-sheet hardness
With my durometer I measured (take about 10 readings, averaged the result) the sponge hardness of both the T80 FX and T05 FX, and not surprisingly both came out virtually identical at 45degrees. Check in the Sponge Hardness Table to see how this compares to other rubbers.
Rubber sheet weight
For those that were hoping the T80 FX would be significantly lighter, you'll find it very similar to T05 FX.
T80 FX – 65g (179mm x 167mm)
Check the Rubber Sheet Mass table to see how this compares to other rubbers.
Cut to a JUIC Iseki Carbon blade, which has quite a common shape and size, the weight of the cut sheet was 44g, so that should give you some idea of how much weight it will add to your bat.
Test Setup
I looked around through my collection of blade, for something that should work well with Tenergy-like rubbers. I decided on a JUIC Iseki Carbon blade, which I've used before and works very well with tensioned-type rubber like the Tenergy series.
I glued the sheet on with Donic Vario glue, which seemed to work just fine. As you can see from the picture below, the pores always show when spreading the glue, so you may need a little extra to ensure good adhesion.
It stuck down very easily, so the pores caused no problem here.
Luckily when I arrived at the club… my friend strongpong was there, who is not only a great person to help me test and review this rubber, but he also happened to have a T05 FX sheet, which I could glue onto the other side for comparison, perfect!
Note: The T05 FX sheet used for comparison was not brand new and has had a little use. However it was still in very good condition and felt near-new in playing performance.
Butterfly Ratings and comparisont
From my recent article comparing the Tenergy rubbers, you can see the ratings Butterfly gives their Tenergy rubbers. In my experience Butterfly ratings are usually fairly accurate, although they never give the complete picture of course. Here are their ratings:
| | | | | |
| --- | --- | --- | --- | --- |
| Rubber | Speed | Spin | Density | Thicknesses |
| Sriver | 10 | 8 | 38 |   |
| Tackiness Chop | 6.5 | 10 | 32 |   |
| Tenergy 05 | 13 | 11.5 | 36 | 1.7, 1.9 2.1mm |
| Tenergy 05 FX | 13 | 11.5 | 32 | 1.7, 1.9 2.1mm |
| Tenergy 25 | 13.25 | 11 | 36 | 1.7, 1.9 2.1mm |
| Tenergy 25 FX | 13.25 | 11 | 32 | 1.7, 1.9 2.1mm |
| Tenergy 64 | 13.5 | 10.5 | 36 | 1.7, 1.9 2.1mm |
| Tenergy 64 FX | 13.5 | 10.5 | 32 | 1.7, 1.9 2.1mm |
| Tenergy 80 | 13.25 | 11.25 | 36 | 1.7, 1.9 2.1mm |
| Tenergy 80 FX | 13.25 | 11.25 | 32 | 1.7, 1.9 2.1mm |
Testing and comparing Tenergy 80 FX
1. Looping / counter-looping
We started off with some simply looping / counter-looping, flipping the bat over to compare the T80FX to the T05FX. It was immediately obvious that the T80 FX was a little faster. What surprised me though is that the throw of the T80 FX was significantly higher too. This was opposite to the comparison between T05 and T80. Now this could be due to the fact that the T05FX is not brand new, as sheet do lose something over time after they've been used. In both cases the throw was relatively high, and drops as you hit harder through the sponge.
Plenty of spin was produced from both rubbers… with no dramatic difference between the two.
The 'glue feel' on both sheets was very good, but I could detect no significant difference.
All in all this rubber is excellent for looping and counter-looping, producing high spin and plenty of pace for a power-loop without the rubber bottoming out.
2. Lifting backspin
Looping short heavy backspin serves was great with this rubber, making opening up very easy and effective. The spin was high, and even a light brush allowed me to lift the ball = > very good!
Again though, the T80FX did not feel much different to the T05FX.
3. Service
I could get plenty of spin on the service, even easier than the T05. The topsheet is really grippy and the softer sponge on the FX series makes it even easier to dig the ball into the sponge. One noticeble difference between the two rubbers was that the T80FX was slightly more bouncy. Putting thing in perspective, the T80FX is not really a bouncy rubber, but it was a little more bouncy than the T05FX. Again it's possible this is due to the T05FX losing some of its bounce as it's not a new sheet.
4. The short game
The T80 really shines in the aspect of the game, and the T80FX still does, and although it's slightly more bouncy, it's even easier to spin the ball. It still has that 'dead' feel on soft contact, the T80FX slightly more than the T05FX, but the difference is not that big. All in all this rubber is very good for the short game.
5. Blocking:
Blocking with the T80 FX was very very good, allowing me to take the pace off on soft contact, and punching the ball hard on high impact. Sensitivity to incoming spin is quite good, better than the T05 for sure, as the softer sponge bottoming out really helps. I could not notice any difference between the T80FX or the T05FX though… I would not be able to pick the difference in a blind test.
6. Counter-looping
I think that counter-looping is definitely one of the strengths of the Tenergy series, and the T80FX is no exception, making counter-looping easy and powerful. I did not really notice any difference between the two sheets, and it performance beautifully. If you have the reflexes and footwork, counter-looping always seems a better option than blocking for the T80FX, and this seems true for all the Tenergies.
7. Hitting / smashing
I always like to test how well a rubber / blade works for smashing high balls, particularly if they're very spinny. I found the T05 to be pretty average for this, as heavy spin seemed to bite a little, so significant adjustment for spin, and solid contact is required or accuracy will be affected. I found the T80FX significantly better for this, requiring less adjustment for heavy spin. If you make solid contact on the ball, it pretty much goes where you want it to go, with good pace. Again there was no noticible difference compared to the T05FX, which was equally good.
8. Durability
The Tenergy series has always been one of the more durable sheet in my opinion, although some would disagree with me. After a couple of hours, the topsheet still looks as new, and retains it's initial dull shine. The topsheet of the T80FX looked so similar to the T80, I can see no reason why it would be any less durable.
Conclusions so far:
Apart from the unexpected higher throw of the T80FX compared to the T05FX (which could well be due to the newness of the sample compared to a used sheet), the T80FX is not a lot different to the T05FX. The difference between T80 and T05 was certainly greater, but I suspect because of the softer sponge of the FX series, sponge effect comes in much earlier, making the top-sheet differences less significant.
For T05FX fans, who want a little more speed this will be a really nice addition.
Although the T80FX may not be that different to the T05FX, it is still a great rubber in it's own right, so I expect it will be quite popular. I expect this will be a popular rubber amongst the Butterfly fans, and may well draw some new players towards the Butterfly brand.
I'm planning to use the rubber for a few more session, as this is what it usually takes to notice the minor differences between sheets, which can be significant in actual games.
Copyright: haggisv